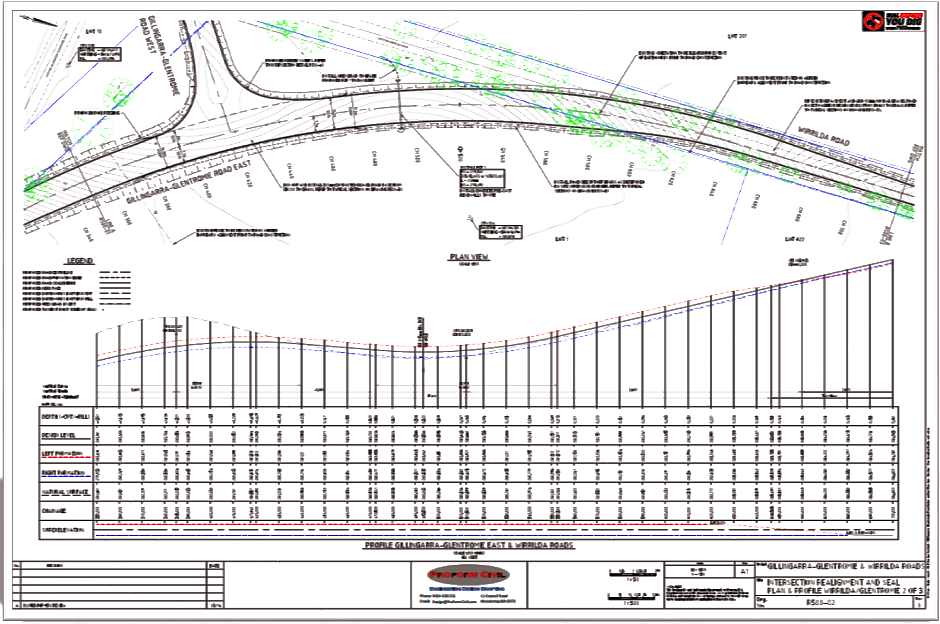 Proform Civil was contracted to produce concepts for the different intersection reconfiguration options of Wirrilda and Glentromie Roads. The project lead to the detailed design of a complete intersection realignment to favour the predominant traffic flow from vehicles heading from the Eastern Leg of Glentromie Road to the Northern Leg of Wirrilda Road.
The existing intersection is unsealed and is on an important haulage route linking farmland to Great Northern Highway. The intersection has suffered from heavy vehicles and had inadequate site distances due to a sharp crest on Gillingarra-Glentromie Road.
The design included the upgrade to a sealed surface and catered for heavy vehicle manoeuvres (B-Triple). Right of Way priority was also re-aligned to favour predominant traffic flows and turning paths were modelled to provide an accurately wide enough pavement to accommodate the large turning pattern of the haulage vehicles.
The design included vertical geometry which would accommodate an operating speed of 80km/h. The geometric design was optimized to achieve low cost drainage and road pavement construction and accommodate safe vehicle stopping sight distances.
A required land agreement is yet to be resolved to enable the construction of this much needed intersection design.