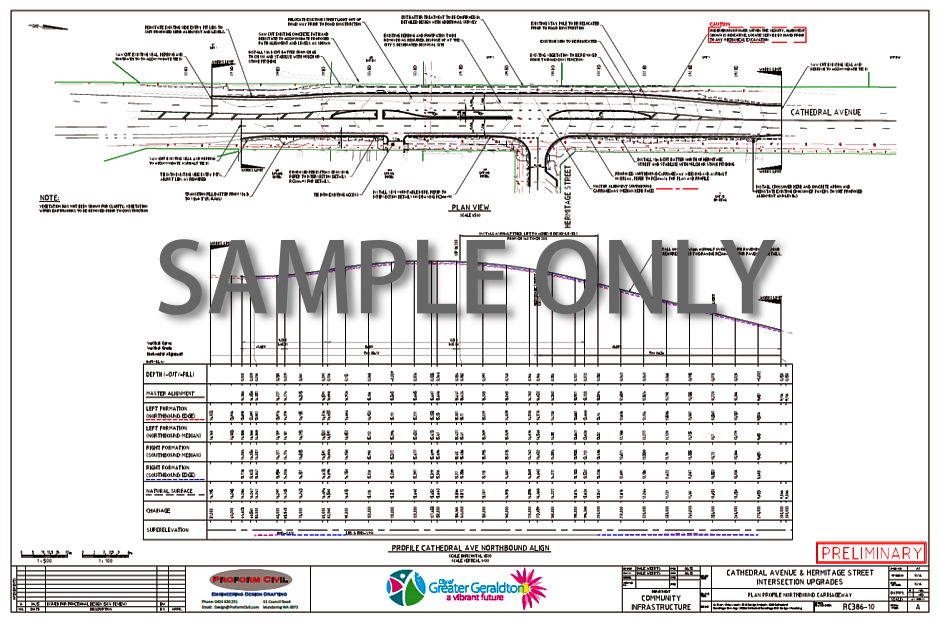 Proform Civil was contracted to produce the geometric design, stormwater drainage, civil construction documents and construction estimate for the design of a protected right turn auxiliary lane at Cathedral Avenue and Hermitage Street Intersection.
Cathedral Avenue is an existing dual carriageway, low speed road while Hermitage Street is a two way side street providing access to a busy nearby hospital and hotel. Hermitage Street is also used as a back road providing an alternative link to commercial area's from Cathedral Avenue.
Proform Civil was initially contracted to undertake some preliminary concepts for the intersection. The right turn auxiliary lane into Hermitage Street became the predominant treatment for the area not only due to the traffic quantities but an existing sharp crest on Cathedral Avenue prior to the intersection which created an unsafe potential for rear end collisions.
Some findings from the concepts:
Due to the crest, a solution to poor sight distances for proposed pedestrian crossings and vehicles turning right out of Hermitage Street would need to be catered for in the detailed design.
An asphalt overlay and thick lift pavement treatment could be utilised to reduce costs with full pavement reconstruction in locations of widening only.
In development of the design, stacking for right turning vehicles into Hermitage Street was reduced. The auxiliary lane length was designed to be suitable for decelerating vehicles which would enable a wider median at the crest of Cathedral Avenue and accommodate a suitable pedestrian crossing with improved site distances.
Proform Civil also optimised the vertical design to reduce the effects of the crest by marginally lifting the intersection of Hermitage Street to improve site distances for vehicles turning right departing Hermitage to head north on Cathedral Avenue. The optimised vertical design will not only reduce the grades on Hermitage Street but improve driver safety with the added site distances for northbound vehicles along Cathedral Avenue.