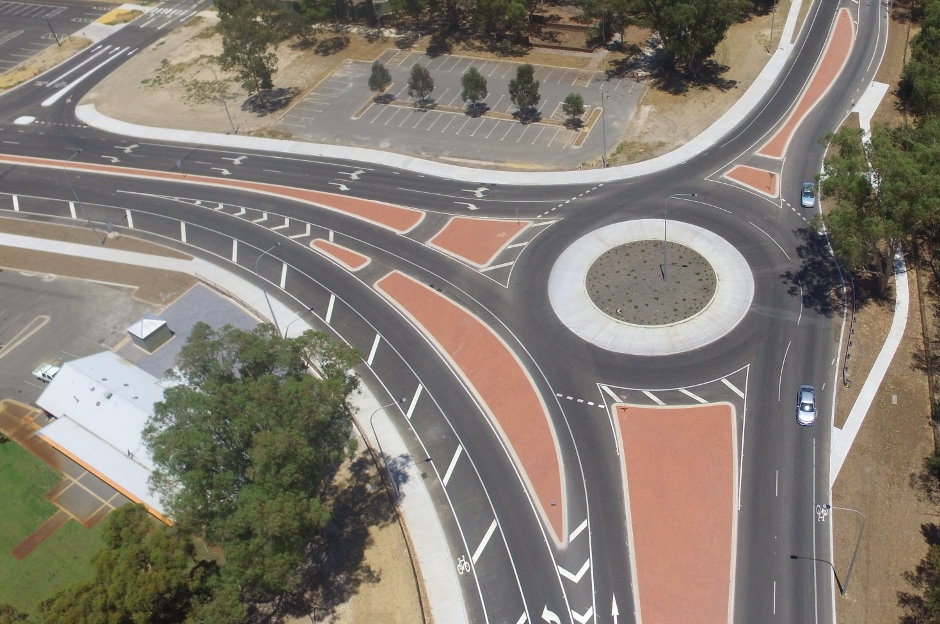 Proform Civil was contracted to undertake the design of a complex roundabout at the intersection of Great Northern Highway and Bishop Road. The project would play a vital part in linking Reid Highway to Lloyd Street, and in turn servicing the area of Midland. The design would also address heavily congested traffic issues due to unbalanced traffic movements from the northern and eastern legs. The roundabout design had to provide access and drainage solutions to busy adjacent commercial areas and cater for network 7 and 4 vehicles on specific legs. The design also had to accommodate the future extension of a dual carriageway to the East.
Proform Civil developed an ultimate concept that provided right of way from Great North Highway to Lloyd Street in the form of a dual carriage way. The concept also had to accommodate a staged design due to budget constraints and private property. A detailed design was produced which matched into Bishop Road prior to Lloyd Street and accommodated the ultimate concept with minimal redundant works.
Levels and alignments were optimised to reduce the impact on nearby properties and a very complex network of existing underground and overhead utilities.
The footprint required land resumptions and came close to existing buildings. Solutions also had to be designed for severed access ways to adjacent car parks and property. A network of underground services was also modelled and catered for.
The existing topography presented challenging opportunities to reduce storm water gutter flow widths in design storm events as well as keeping earth work batters within the scope. A network of storm water drainage was designed to overcome this along finely tuned final surface grades.
A signage and pavement marking plan was developed for the scope of work and approved by Main Roads. Construction of the road will commence once modification works have been completed to conflicting utilities.